Race Entry Pools and Prizes
It is better that you have the understanding and skills in the previous tasks before attempting Race Entry, adding pools and prizes and processing a result.
This skill are the same for a club, federation or national organisation. The only difference is you may be using more pools and prizes for a national race. The program can use as many pools and prizes as you need. Most of the set up takes only once to complete and transfers from year to year.
Set up Race Entry Fees
Enter the entry fee in Race fee. Marking Fee in Result fee and you have a spare for perhaps admin cost for online entry admin fee. If you leave the field blank it will calculate 0.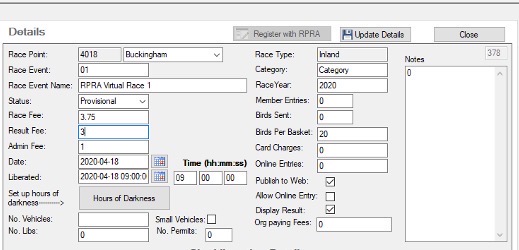 Pool Structure setup – Before the season starts.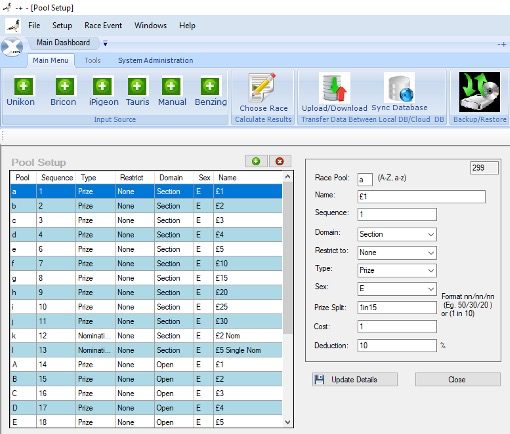 The program uses the same function for all organisations. You can have % 1inX Noms confined to age sex if required. Program is designed to run national organisations. Individual clubs use the same function probably a few less pool options.
Please note if you are using open and section pools, Open pools uses Capital letters ABCDE and Section pools use abcde these need to match printed race entry sheets you cannot swap these letters around. The program will default back to this form. 
Rational Open larger area bigger letter. Section smaller area = lower case! 
Example of a smaller club in membership using 5 pools with percentage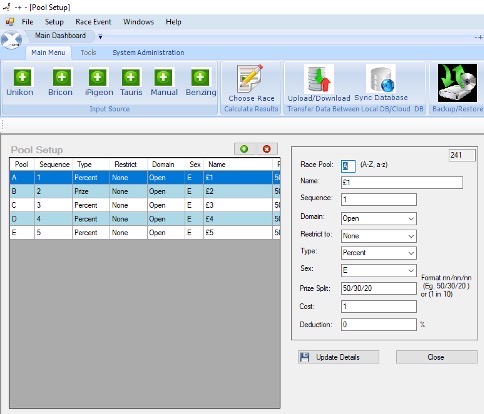 Race Entry - Postal Entries Online entries or Friday night entries. 
1.      Select your Race event in Race setup and set the entry fee of your race E.g. £3.75 you can add marking fee and admin fee if necessary. Your race is now setup for accepting income.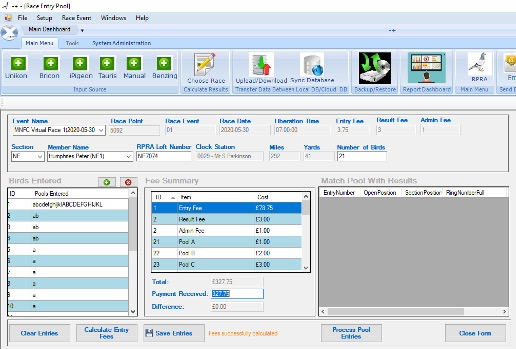 2.     Select Race Setup - Race Entry 
3.     Select the race you are adding race entries to.
4.     From the drop-down menu select the fancier. Add how many birds these are entered by the fancier.
5.     Add pools to the line numbers by typing the appropriate letters set up in your pool structure. 
6.     Select Calculate Entry fee check with fanciers payment, amend if necessary and press save. If you make a mistake amend and press save. The last saving is the one that it is set. 
7.     Proceed to the next fancier until all entries are in.
8.     Online entries go straight into the program. This require appropriate coding and setup. 
AFTER THE RACE HAS BEEN FLOWN
Setting Race Prizes
This uses the same function if you are a club, fed or national. 
Select Race Event Select category and then add the prize money you want paying out. You can have as many positions as required. If you use less than the default number just leave them blank.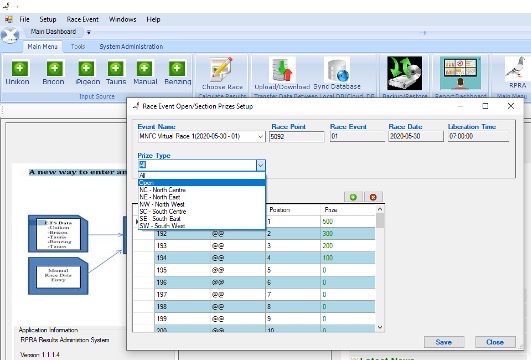 This can be set prior to the race been flown or after the race has been flown by the organisation. Enter the amounts and press save. If you need to alter simply amend and press save. 
MATCHING RACE RESULTS TO POOLS
Once your clubs have uploaded the race to the RPRA cloud and you have downloaded and published the full provisional result you can match the results to the pools. You need your Form B Race entry sheet for a large organisation prepare by having them in numeric order.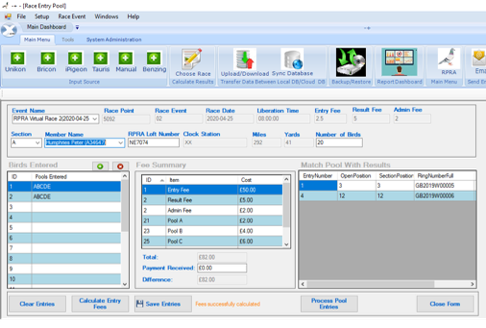 No Pools
Select the fancier from your Form B race entry. If the fancier has no pools just press save and move on to the next fancier. 
With Pools
If you get a fancier which has entered pools, EG ABCDE ABCDE shown in left box then you need to check which position the bird was on your race entry. 
In this example, my first bird timed was my first pigeon on Form B.  Therefore I placed 1  in the EntryNumber box. My second bird clocked was the 4th bird on Form B so I placed 4 in the Entry number.
When matching is complete, press save. 
Repeat until all fanciers have been processed. 
If a fancier doesn't have their clock read the right-hand box wont display any birds clocked. Move on to the next fancier. 
Processing Prizes and Pools
Press Process Pool Entries. Let the computer do the calculations. When this is complete, go back to your provisional result and press display results and all your prize money is displayed. Press Publish to the web and the result is on the RPRA Results site. 
You can save the result as Word, PDF or Excel and add the result to your own website. You can print out hard copies as normal if required. 
There is an Excel report which gathers all the necessary information for your report header pool summaries etc. This saves a lot of time generating the header of a result ready for displays in the fancy press. This is available on request as the Excel document is tailored to your organisations requirement. We can email a copy once you have a full result for you to see the different tables. The MNFC uses this file to generate its header. Previously this manual task was very time-consuming gathering information from a variety of different reports.