HOURS OF DARKNESS - 2 3 4 Day races
A
http://pigeon.org.uk/task-5-how-does-a-federatio.html The HOD starts at 56 seconds. 
Create RPRA Virtual Race 2 in Race Setup. Some organisations have it already set up and just need to download it by pressing the green sync button in Race Setup. If in doubt, please press the green sync button to see if anything comes down from the cloud.  Your Race Secretary or Fed Secretary may have already set the race up for you. 
Select the race and complete as you did last week. 
Select the Hours of Darkness button. Below is the screen shot of my club's HOD for race 2. Feel free to alter times etc these were just made up! The HOD will suite all club's structure you can make them fixed or change each day.
Remember to press accept and then update details. Your race is now set up. Fed/Race secretaries may want to post their race event to the cloud at this stage so that all your clubs just press the sync button. All club then process the same race event. 
Creating a manual batch file. It is important to get the dates correct when constructing your manual batch file. Below is an example from my club's result this evening. 
Isle of Axholme FC Virtual Race Result. The result has been posted to the RPRA results website.
Example of race over 5 days. 
Birds liberated on the 24th April at 06.30am. Hours of Darkness are 22.00 – 05.30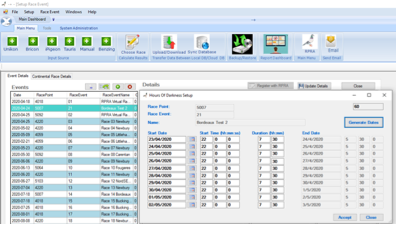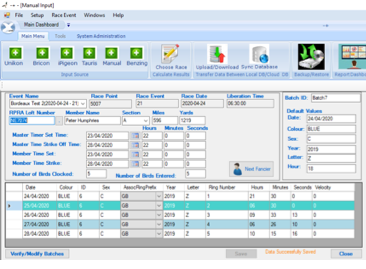 Extension
(HOD is a fascinating topic and should be understood by everyone. Captain Cutcliff's program is still used today!)  
INSERT TRAINING CLIP